Welcome to Man Monday!
I might dub these DELICIOUS egg rolls, the Han Solo Egg Rolls.  Why you ask? Because they saved me from imminent pain and anguish, just in the nick of time.  Shall I explain?
So let me tell you the story peeps.  There's this restaurant where we live called Lulu's Asian Bistro.  On Valentine's Day (2014) we visited this place and I enjoyed the best egg drop soup that I've had in a LONG time.  It was so good that I made the determination to recreate it myself.  Do you want to know how many times I tried? Five. Five miserable and failed attempts.  My Richter Rage Scale was at an 8.9, at least.  The waves of anger emanating from me were felt in Bora Bora. Just ask Sarah – I vowed to never cook again.
30 minutes later I made these…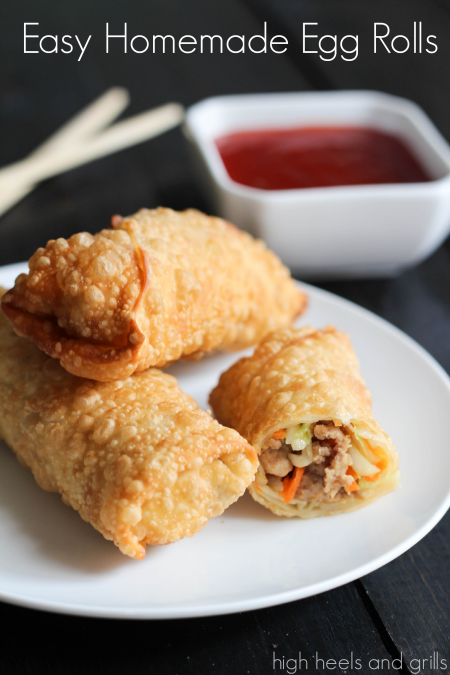 Easy Homemade Egg Rolls

Recipe adapted from All Recipes
Makes 8-12 egg rolls
Ingredients:

1 lb ground turkey (or pork… or chicken.. whatevs)
1 teaspoon ground ginger
1/2 teaspoon garlic salt
1/2 teaspoon onion powder
1/2 teaspoon salt
2 1/2 cups shredded cabbage (about a quarter-head)
1 cup shredded carrots
1 quart peanut oil — now this stuff is expen$ive, if you want to save the pennies, just buy a 1 1/2 pint bottle like I did and cook only a few rolls at a time. But I'm telling you, peanut oil is the way to go.
1 tablespoon flour
1 tablespoon water
8-12 egg roll wrappers (depends on how big/stuffed you want them — we ended up with 12)

Start warming your peanut oil in a pot to about 350ºF.
Brown your ground turkey/chicken/pork in a large skillet on medium-high heat. If you use pork, make sure to spoon out most of the fat after it browns.  Season the meat with the ginger, garlic salt, onion powder and salt. Remove from heat.
Meanwhile, in a medium bowl, combine the cabbage and carrots. Add the meat to it and mix well.
Combine the flour and water in a small bowl to make a paste and set aside for a moment.
Lay an egg roll wrapper with one of the points pointed toward you.  Place about 1/4 to 1/3 cup of the cabbage mixture in the middle of your wrapper.  Fold the closest point away from you, over the top of the mixture.  Bring in the left and right points to the center.  Rub a small amount of paste over the remaining corner of the egg roll and then roll the bundle away from you, over the last point.
When your oil is hot enough, place an egg roll or two in the pot.  Let the egg rolls sizzle for about 10 seconds and turn them over for another 10 seconds or so.  When the egg rolls start to brown, remove from oil and place on a paper towel (they will brown a little more even after removed… don't burn them!).  That's it!
I hope you guys really enjoy your HSERs… what?  You don't know what that is?  Have you been paying attention at all?  Han Solo Egg Rolls!  Maybe they will save you just in the nick of time too – so easy, so delicious, no joke.
Stay tuned for attempt SIX of the ever elusive Perfect Egg Drop Soup.  If you hear any explosions this weekend, it might actually just be my rage if this attempt doesn't work.
-Zach