Sarah: I just LOVE my dad's pork chops and rice.
Zach: Yeah, you've said that before. I thought you don't like pork.
Sarah: I don't.
Zach: …
Sarah: I mean, I USUALLY don't like pork, but this stuff is amazing.
Zach: So, you don't like MY pork. *Zach hangs head in shame*
Sarah: No, no, no, I mean, not really, sort of… I mean, I don't like any pork, usually.
Zach: I'll pretend I didn't hear that. So what if I made your dad's pork. Would you like my pork then?
Sarah: But then it wouldn't be your pork…
Zach: …
This week's Man Monday post had a simple purpose: make pork that Sarah would eat. She goes on and on about how much she loved her dad's pork chops and rice growing up, yet she refuses to eat any kind of pork… Doesn't quite make sense, I know. In fact, back when we had ribs, she made me buy beef ribs before I even cooked anything. She had already made the decision that she wouldn't eat the pibs (pig ribs… get it?… never mind).
So I finally swallowed my pride and decided to make a recipe I knew she would like. As much as I try to make it my own, I don't foresee this recipe ever being called anything other than DAD'S pork chops and rice. When our kids enjoy it, I'm sure it will be called Grandpa John's Pork Chops and Rice — The Only Pork Mom Will Eat… G.J.P.C.&.R.T.O.P.M.W.E. for short. I can just see it now…
Five-year-old-mini-Zach: Mom! Can we have some jee-jay-pee-see-and-arr-tee-oh-pee-emm-doubleyou-eee for dinner tonight!? I love that stuff!
Strange-neighbor-kid-that-always-hangs-around: Yeah, that's stuff's good!
Two-year-old-mini-Sarah: Yummm! Yum! Yum! *more toddler noises*
Sarah: Zach, you should make some of Dad's pork chops and rice.
Zach: Sure, sure, will do. I'll just throw away the pork I made last night that nobody ate and make this stuff…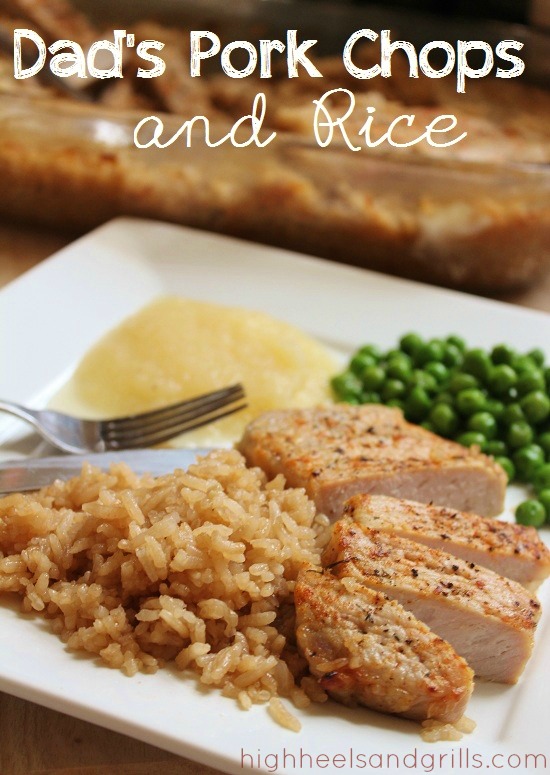 Ingredients:
1/2 cup melted butter (1 cube) + 1 tablespoon of cold butter
2 cloves garlic, minced
2 cups uncooked rice (we used white rice in this recipe)
2 cans beef consomme (10 oz cans)
water (2 cans of water, using the beef consomme cans)
1/2 white onion, chopped
salt and pepper
Preheat your oven to 400°.
Pour your melted butter into a 9 x 13 casserole dish. Add the rice, minced garlic, chopped onion, beef, and water to the dish. Mix everything together.
Cover the dish with tin-foil and place in the oven. Cook for 40 minutes.
Season both sides of your pork chops with salt and pepper. Melt a tablespoon of butter in a skillet and add the pork chops. Cook the pork chops on medium-high heat, for about 3-4 minutes each side. Don't worry too much about how well-done the chops are right now, they will cook more in the oven.
After the rice has cooked, remove foil and place the pork chops on top of the rice mixture. Re-place in the oven for an additional 15 minutes. That's it!
I hope you like this recipe. It really is delicious. I won't even mind if you call it Sarah's Dad's Pork Chops and Rice… at least, not too much.
-Zach
Linking up here.