Welcome to another Man Monday.
Confession time: You know that Chinese restaurant that's in every single American mall and airport? Yeah, that one. Well, they make AWESOME cream cheese rangoons, and I might actually slap a puppy if it meant I could have one (that's the confession part). Here's the problem. They only give you three of them per order!! THREE! It's over before you even realize what you ate. Although delicious, it's the fastest $3.25 you will ever spend/throw away.
So, ol' practical me decided that I'd HAD ENOUGH! Why not make them myself, save a gazillion buckaroos, and eat as many as I want? Now, this is not necessarily a "copy-cat" recipe. I honestly have no idea what they do to their rangoons, and I don't really care, because these are better. No joke.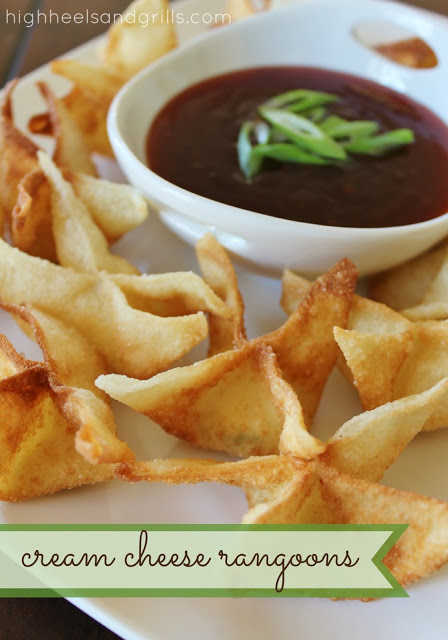 This recipe makes about 30 rangoons, and will cost you about $5 (minus excess). Thirty rangoons at the panda store would cost you $32.50!! Boo yah. Just blew your mind.
Ingredients
3 inches of vegetable oil in a pot/pan/deep fryer (Sarah said she'd never deep fry stuff on this blog … I didn't *evil laugh*)
1 8 oz. package of cream cheese
1 spear green onion, chopped/diced
1/2 clove garlic, minced
1 package wonton wraps (I bought the 12 oz. and only used half-ish for this recipe)
1 egg, beaten to a foamy mess
dipping sauce of your choice
Directions
Begin heating your oil on medium-high heat. Please be careful. I love you guys… and your vulnerable eyeballs.
Warm up your cream cheese block in the microwizzle for about 10 seconds. Mix in the chopped onions and minced garlic, mix well.
Place about 1 tsp of the cream cheese mixture in the center of each wonton wrap. Assemble about 4 or 5 at a time to prevent the wraps from drying out. Using your egg, wet the edges of the wraps. Fold them however you like, but I like to make them look panda-ish and fold the flat edges together (pull the centers of all four flat sides to the middle and give a good pinch)
You may want to test the temp of the oil by placing a piece of a wonton wrap in the pot. If it burns too quickly (dark brown after 20 seconds) it's too hot. Yet, if it doesn't brown after 1 minute it's not hot enough.
Place about 4 wontons at a time in the pot. Let them cook until the edges are brown (only takes about a minute). Remove and place on a paper towel to drain/cool a bit before you ravenously devour. DANGER: the cream cheese will be nuclear hot! Two days later my tongue still hates me…
I hope you guys enjoy this appetizer. It seriously might be the favorite appetizer I've ever made! Oh, and wish Sarah and I luck… as you read this, we will be in vacation town. We will have all sorts of fun things to tell you when we return!
-Zach
Linking up here.