Welcome to Man Monday!
So, I get on Sarah all the time about using titles for blog posts that have far too many words. Seriously.  Take these Breakfast Corn Dogs for example.  Are they actually corn dogs? No. That's what the "breakfast" intro-word implies, they are a breakfast version of corn dogs.  I purposefully didn't call them "Super Awesome Breakfast Sausages Covered in a Cornmeal Batter Dipped in Syrup of the Ages!"  You know why? Cause that's stupid!
Anyway. Sarah and I got into a disagreement about these little appetizers. She wanted something along the lines of "Mini Asparagus Cream Cheese Bacon Appetizers of Delight," or something like that (only slightly exaggerated).  She claimed, "but that's the only way people will REALLY know what they are!"  Oh on the contrary, my dear.  That's what the picture is for…
Regardless, this title is what I came up with to compromise the sitch (short for situation, duh). In fact, I make a motion to the masses!  I'm officially inventing the word Bacontizer: any appetizer utilizing bacon as it's premier ingredient. Done.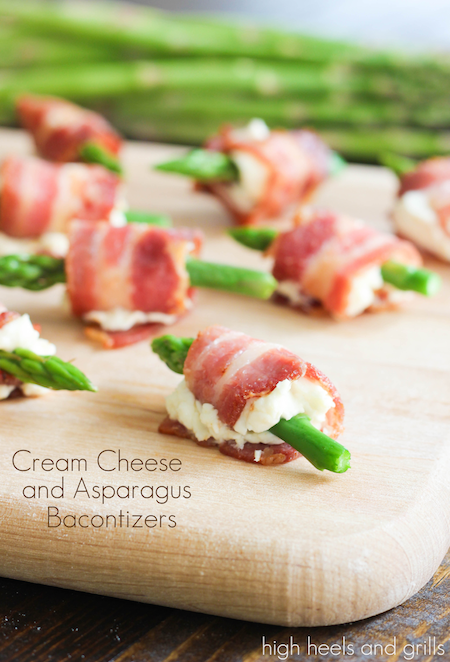 Cream Cheese and Asparagus Bacontizers

Makes about 1 dozen Bacontizers
Ingredients:

6 asparagus spears, chopped in half (I usually cut off about an inch of the bottom part of the stem – gets rid of the more bitter stuff)
6 bacon slices, chopped in half (or if you are crazy and like less bacon, cut into thirds) and fat-trimmed as much as possible
4 oz of cream cheese (or neufchâtel cheese), room temperature (if desired)
1/2 teaspoon garlic powder
1/2 teaspoon onion salt

Bring oven to 400ºF.
Boil your asparagus spears in lightly salted water for about 4 minutes, then flash cool in cold water. Set aside.
Fry your bacon lightly on each side, just enough for the meat to be cooked, set aside.
Mix together your cream cheese, garlic powder, and onion salt. It may help to let the cream cheese sit at room temperature for a while before mixing.
Spoon about a 1-2 teaspoons of the cream cheese mixture onto each bacon slice. Don't get too OCD on making sure it's even or anything, your just going to hide the cream cheese anyway.
Place an asparagus piece on the bacon and roll it up. Simple as that.
Lastly, bake the bacontizers in the oven for about 3 minutes, just to crisp them up a bit. That's it.
Enjoy your manly bacontizers the next time you have peeps to impress. I can guarantee you two things: they will be gone in less than 2 minutes and people will love the name "bacontizers." #copyrightintheworks #yousawitherefirst
-Zach