Welcome to round THREE of Man Monday's Holiday Special: Zach Plans My Holiday Meal. Also known as ZPMHM. Has a nice ring, doesn't it? I might just make a Christmas song out of it…
Anywho. So, if you've been following along with my other posts this month, I've already given you guys a plan for an appetizer and an entree. So what's next? Dessert!
Now, I know what you're thinking… stuffed apples for dessert? Is this not America? Where's the pie? Where's the heart-attack-on-a-stick? Where's my deep fried snickers bar?! Well, though all of those things are delicious, I wanted to make something a little easier than pie, a little classier than a chocolate bar, and though this recipe will still give you the Holiday richness you desire, it's definitely not a heart-attack-on-a-stick. And, if you want, you can even serve it as a side-dish. It doesn't even need to be served as a dessert. Anyway, enough talking… this is how you do it folks.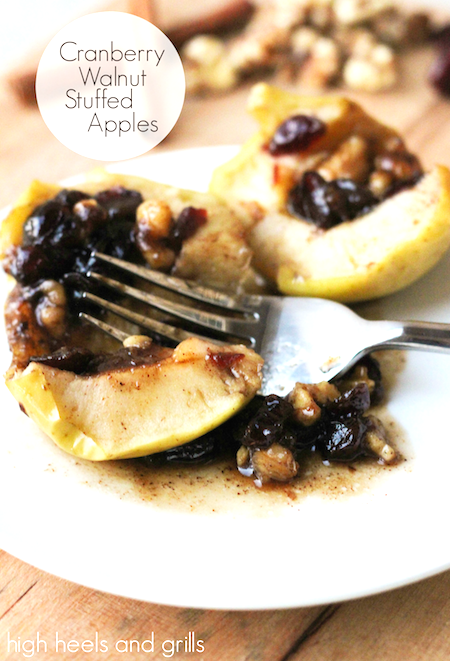 Cranberry Walnut Stuffed Apples

Makes 4 servings
Ingredients:

4 Granny Smith apples
3 tablespoons butter
1/4 cup brown sugar
1/4 cup walnuts, crushed
1/4 dried cranberries (craisins)
1 teaspoon cinnamon
1/4 teaspoon nutmeg
1/4 teaspoon clove spice
tin foil (optional)

So this is super easy. First, preheat your oven to 350º.
Then, core your apple from the top and hollow it out a little bit with a spoon, but don't cut all the way through. You want a little bit of the apple core to remain on the bottom to hold all the goodness in.
Melt your butter in a small saucepan on medium heat. Combine the remaining ingredients and incorporate well. Don't let it get too hot, or you'll have chunky, impossible-to-work-with syrup on your hands. Just mix it together until the sugar is dissolved in the butter and your cranberries and walnuts are well coated.
Take about 1/4 cup of your cranberry mixture and stuff it into one of your apples. Repeat for the remaining apples. If you have some mixture left over, that's okay, just cram it on top of the apple that has the least.
I like to place a little piece of tin foil under each apple on a baking sheet, this keeps the juices from getting forever caked on your baking sheet.
Place the apples in the oven and cook for about 14-20 minutes. Stay closer to 14 minutes if you want a firmer apple. 20 minutes will give you a soft, deliciously squishy apple. Personally, I like the firmer apple.
That's it my friends! You now have yourself a holiday meal, planned by me. I PROMISE you, if you follow all of my instructions for all three of these posts, you will have a memorable Holiday meal, worthy of praise. Of course, you can always check out our other recipes for some side dishes and more dessert options. Needless to say, there's no reason to stress over the season anymore. I've done that for you. 😉
Next week: What in the world are we going to do with these delicious leftovers? Find out what I have planned next Monday my friends!