You're going to want this Cookies and Cream Fondue for your next party! It tastes like Oreo cream with bits of Oreos in it. It goes great with fruit!

Note: I have been compensated for this blog post by REAL® Seal, but all thoughts and opinions are exclusively mine. Get this: Did you know that March 28th is national "Something on a Stick Day"? Yeah. Neither did I. But I know now and I'm totally going to celebrate it with this Cookies and Cream Fondue!
What is it about putting something on a stick that makes it taste so much better? My hometown has a famous turkey recipe that calls for a few turkey breasts, marinated in everything delicious. Last summer, Zach and I made that recipe, but cut the turkey up and did it with skewers instead and I must say – I don't think we will ever go back to eating full turkey breasts. There's just something so satisfying about eating it on a stick!

Anyway. I'm getting a little off topic here in my excitement of eating things on sticks. Never thought that would be a sentence I'd be writing on this blog. When I think of eating things on sticks, fruit kabobs and fondue are the first things that come to mind. We actually just had a fondue night with some ladies from my church last week and it made me wonder why I don't ever do fondue at home. It's so easy and tastes delicious! This Cookies and Cream Fondue is no exception.
This recipe is made with cream and butter, stamped with the REAL® Seal, along with white chocolate chips and chocolate sandwich cookies. Yeah. Only four ingredients. It's super easy to make and I think it just hit the spot as my favorite fondue that I've ever had. You'll love it, your friends will love it, and it's sure to impress at the next fondue night you go to.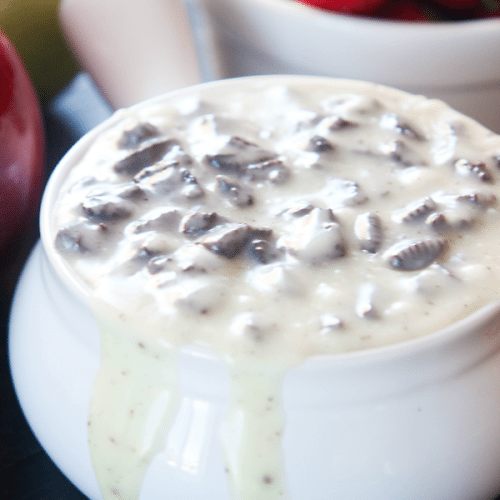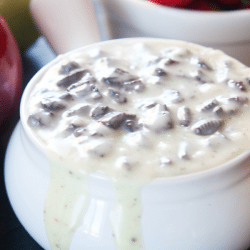 Cookies and Cream Fondue
Ingredients
1/4

cup

{1/2 stick} salted butter {Look for the REAL Seal!}

1

cup

heavy whipping cream {Look for the REAL Seal!}

24

oz.

premier white morsels

15

chocolate sandwich cookies

coarsely chopped
Instructions
In a medium saucepan, over medium heat, combine butter and cream and bring to a simmer, stirring continuously.

Remove from heat and add morsels. Stir until completely melted and smooth.

Add chopped cookies and gently fold in, just until combined.

Serve immediately with your choice of dipper. {Suggestions: strawberries, apples, bananas, pound cake, brownies, and my ultimate fav - pretzel chips.}
-Sarah