You know all of those end-of-the-summer barbecues you're going to be attending before school starts? Well, I have the perfect (and easiest!) side dish for you to bring along! I went over to my friend, Brooklyn's house the other day to do some crafts and hang out when she pulled out a bowl of cole slaw. After scarfing it down in minutes, I knew I had to have the recipe for it immediately!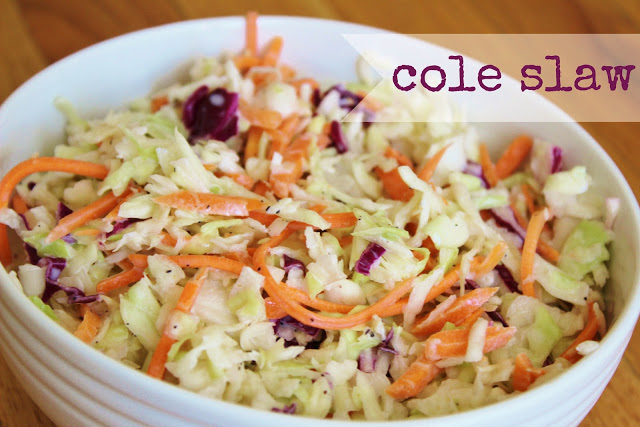 I've always been a cabbage lover. When my little sister would be picking it out of her salad during dinner, I'd gladly be asking for more. This combination makes it even more yummy!
Ingredients:
8-10 cups of finely shredded cabbage
1/4 c. shredded carrots
1/2 cup mayonnaise (Definitely NOT miracle whip. That's an abomination.)
1/3 cup sugar
1/4 cup milk
1/4 cup buttermilk
2-1/2 Tbsp. lemon juice
1-1/2 Tbsp. white vinegar
1 tsp. salt
1 tsp. pepper
1/4 tsp. onion salt
In a large bowl, mix cabbage and carrots.
In a separate bowl, combine all other ingredients and whisk until smooth.
Pour wet mixture over the cabbage and combine well.
Brooklyn told me (and I agree) that it tastes a lot better after it has been sitting in the refrigerator for a day or so. It gives it some time for the cabbage to soak up all the delicious juices. Either way though, it still tastes fantastic!
-Sarah
Linking up here: Kitchen Fun With My 3 Sons, Not Your Ordinary Recipes, Simply Sweet Home, Simply Designing, It's a Hodgepodge Life, Thirty Handmade Days, Whipperberry, At the Picket Fence, Delicate Construction, Stuff and Nonsense, Happy Hour Projects, French Country Cottage, My Romantic Home, Just Winging It, Foy Update, Tater Tots and Jello, Family Ever After, Too Much Time On My Hands, Be Different Act Normal, Funky Junk Interiors, Young and Crafty, Classy Clutter, Serenity You, Polkadot Pretties, Lovely Crafty Home, KB and Whitesnakes, Gingerbread and Here.