Last year, Zachary and I discovered cinnamon roll pancakes and were instantly hooked. We loved them so much, that we were determined we would have them for breakfast when we went camping over Labor Day weekend. We bought an adapter, so we could use our car to plug in our griddle and we hadn't been at the campsite much longer than ten minutes before the adapter broke. We were irritated beyond belief, but luckily we had brought along a small frying pan. We put that over the sorry-excuse-for-a-grill that was provided at our campsite and somehow, we were able to have cinnamon roll pancakes that morning. Those were the most frustrating pancakes I've ever made in my life, but one bite, and it was totally worth it.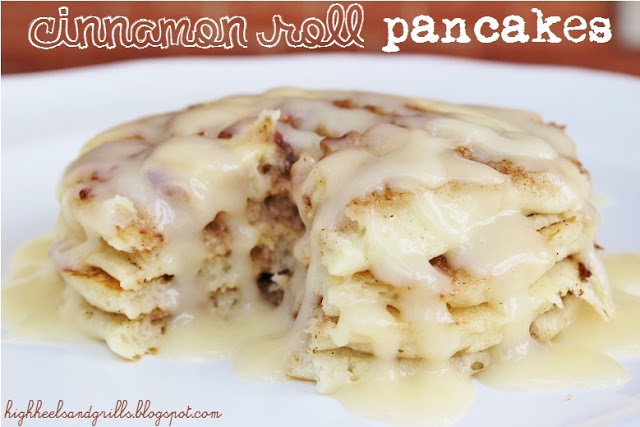 You definitely get the best of both worlds with these – pancakes and cinnamon rolls. Mmm-mm good. Thank you Recipe Girl for sharing this recipe with us!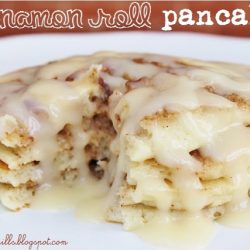 Cinnamon Roll Pancakes
Ingredients
Cinnamon Filling:

4

Tbsp.

unsalted butter

melted

6

Tbsp.

brown sugar

packed

1/2

Tbsp.

ground cinnamon

Cream Cheese Glaze:

4

Tbsp.

unsalted butter

melted

2

oz.

cream cheese

at room temperature

3/4

cup

powdered sugar

1/2

tsp.

vanilla extract

milk

optional

Pancakes:

1

cup

all-purpose flour

2

tsp.

baking powder

1/2

tsp.

salt

1

cup

milk

1

large egg

lightly beaten

1

Tbsp.

canola or vegetable oil
Instructions
For the cinnamon filling:

In a medium bowl, stir together butter, brown sugar and cinnamon.

Pour into a zip lock bag and set in the refrigerator until further use.

For the glaze:

In a small bowl, combine butter and cream cheese, stirring until smooth and well combined.

Stir in the powdered sugar and vanilla - incorporate well. (I found it to be somewhat stiff at this point, so I added a couple teaspoons of milk to make it feel like more of a glaze than a frosting.) Set aside.

For the pancakes:

In a medium bowl, mix together the flour, baking powder, and salt.

Whisk the milk, eggs, and oil in to dry ingredients until well combined and add to the flour mixture.

Heat a large, non-stick skillet over medium heat and spray with cooking spray.

Use a 1/4 cup measuring cup and add batter to the skillet, making about 4-inch pancakes.

Retrieve cinnamon filling and massage so as to incorporate any butter that may have separated.

Snip the corner of your baggie and squeeze filling into the open corner.

When your pancakes begin to form bubbles, add the filling in a swirling manner.

Cook pancakes 2-3 minutes or until they begin to turn golden-brown and then flip.

Cook 1-2 minutes until golden brown again.

Flip pancakes onto a plate and serve with a drizzle of glaze.
They may seem like a lot of work, but they really are well worth the reward. Enjoy!
-Sarah