Man Monday!!
So, after weeks of sissy posts like brie bites and oreo fudge, I decided it was time to man things up a bit.  See, it's pretty easy to man up a blog.  All I have to do is write up a post like CHOPPED STEAK! If only it was that easy to man up other things in life…
One day, I'll have a Man-It-Up Wand.  You know how in Harry Potter there are wands with phoenix wings and dragons scales built in to them or something? Well, my man-it-up wand would be made with spit, a couple chest hairs, and chopped steak.  Wave that thing at Justin Bieber while saying, "Manna-Testerosa" and suddenly you've got Patrick Swayze singing "Baby" like it should have been sung.
Anyway, I came across this chopped steak recipe that the Neelys came up with and I just HAD to make it. One day I hope to have dinner with the Neelys… who knows, maybe they will read this post and you know, just make it happen (yo Neelys, my wife and I will even do the dishes after our dinner, promise).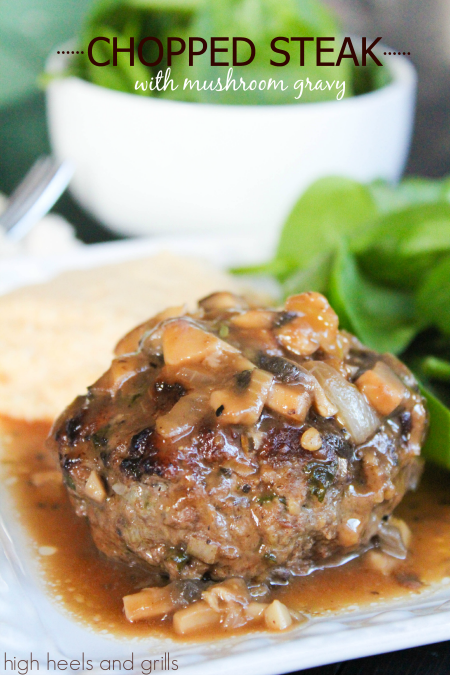 Chopped Steak

Makes 6 steaks
Ingredients:

Steaks:

1 1/2 pounds ground beef sirloin (or just regular ground beef for us simple folk)

1 egg, beaten

1 Tablespoon worcestershire sauce

1 shallot, chopped

3 tablespoons fresh parsley, chopped

1 clove garlic, minced

1/2 teaspoon ground mustard

2 tablespoons panko bread crumbs

1/4 cup all-purpose flour

salt and pepper to taste

1 tablespoon canola oil

1 tablespoon butter

2 tablespoons butter

8 ounces of mushrooms, chopped

1/2 white onion, chopped

1/4 teaspoon dried thyme (or 1/2 teaspoon fresh, minced)

salt and pepper

1/4 cup flour

2 1/2 cups beef stock, OR you can use 1/2 cup of brandy or a cooking alcohol + 2 cups of beef stock – I just don't like the bitter taste of alcohol in my gravy, burnt off or not

Combine your beef, egg, worcestershire, shallot, parsley, garlic, mustard, bread crumbs, flour, and however much salt and pepper you think is right… I know, totally precise, in a large bowl. Hand mix lightly (if you overmix, you'll have meatloaf).  Separate into 6 individual patties.

Heat up your butter and canola oil in a frying pan on medium-high heat.  When the butter starts to foam, fry each side of your patties for 2-3 minutes and place each one into a 9×13 dish.

At this point, preheat your oven to 350º.

Remove any excess fat from your frying pan, but keep the browned bits. Add your butter for the gravy and reduce heat to medium.  When melted and foaming, add your mushrooms, onion, and thyme.  Cook for about 3 minutes or until the mushrooms are soft. 

Sprinkle your buttery mushrooms with the flour and mix.  Let your flour/mushroom mixture cook for a couple minutes and add 1/2 cup of your beef stock. Mix well.

Add the remaining beef stock slowly, while stirring.  Incorporate all the browned parts into the gravy. 

Let your gravy simmer on medium low heat for about 8 minutes, stirring frequently.

Pour your reduced gravy on the steaks in the 9×13 pan and cover with aluminum foil.

Bake in the oven for approximately 25-30 minutes, and you're done!!
Okay guys, do me a favor.  If every single facebook follower donated $50 buckaroos, I'd have a million bucks.  I pinky swear that I would use that million bucks for the research and development, design, and construction of a Man-It-Up Wand. With said wand, I would rid this world of all disgraces to man-hood, such as the Smart Car, the Biebs, and Richard Sherman. Come on guys, come through for me!