These Chocolate Peanut Butter Rice Krispy Brownies are the ultimate dessert! They are a peanut butter cup, chocolate chip brownie, topped with a chocolate, peanut butter, krispy rice mixture. To say they are delicious would be an understatement.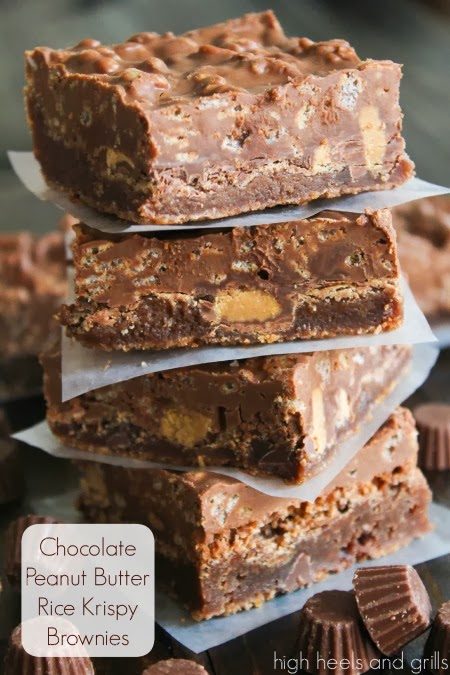 Hello, friends! Sorry for the little MIA-ness going on the past few days. I got back from California and didn't want to let go of vacation mode I guess. Can you blame me though? Try 75 degree weather, hanging out with family, and Disneyland – my favorite place on this entire planet. Now it's back to laundry, dishes, and missing my husband while he's at work. 😉
Anyway, I thought to celebrate coming back from vacay, I'd share with you one awesome dessert that you are going to want to make right away – these Chocolate Peanut Butter Rice Krispy Brownies. A few months ago, our Sunday school teacher in church brought these to share with the class and I knew I needed the recipe right away! I got it, made them, and I haven't been able to stop thinking about them since. Try chocolate, Reese's peanut butter cups and rice krispies, all nestled atop a chocolate peanut butter brownie. Umm, yes please. I can hear them calling my name!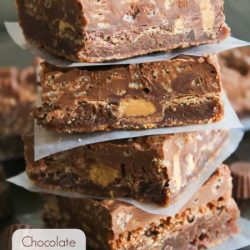 Chocolate Peanut Butter Rice Krispy Brownies
Ingredients
Brownie

1

& 3/4 cup milk chocolate chips

divided

3/4

cup

butter {I used salted}

1/2

cup

light brown sugar

packed

1

& 1/2 cups white sugar

1

& 1/2 tsp. vanilla extract

3

large eggs

1

cup

all-purpose flour

8

regular-sized Reese's peanut butter cups

chopped {Or 1 cup mini Reese's peanut butter cups}

Krispy Topping

1

& 1/2 cups smooth peanut butter

1

& 1/2 cups milk chocolate chips

1

Tbsp.

butter {I used salted}

1

& 1/2 cups rice krispies cereal
Instructions
Preheat oven to 350ºF.

Line a 9x13 inch baking pan with aluminum foil and spray lightly with cooking spray. {Trust me - You want to do this step. It makes clean up so much better.}

Combine 3/4 cup chocolate chips and butter in a large bowl.

Microwave on high heat for 45 seconds. Stir and then microwave in 15 second increments and stir again until mixture is smooth.

Stir in sugars until well combined.

Add the vanilla extract and stir until smooth.

Whisk in eggs.

Fold in the flour until just combined.

Stir in 1/2 cup chocolate chips and then pour batter into pan.

Bake for 25 minutes or until center is set.

Remove from oven and sprinkle chopped peanut butter cups and remaining 1/2 cup chocolate chips over the brownies and continue baking for 3-4 more minutes.

Remove brownies and let cool.

Prepare topping by combining peanut butter, chocolate chips and butter in a medium bowl.

Microwave on high heat for 1 minute. Stir and then microwave in 15 second increments and stir until mixture is smooth.

Add rice cereal and mix until fully coated.

Spread cereal mixture in a smooth layer on top of brownies and then cover and refrigerate for at least 90 minutes. {Or overnight.}
I prefer to eat them at room temperature because the chocolate is a lot more creamy and smooth, but it's up to you! Enjoy. 🙂
-Sarah