When we lived in California last year, we had some really great
friends
that introduced us to Chicken Tikka Masala. For this reason, we will forever be in their debt.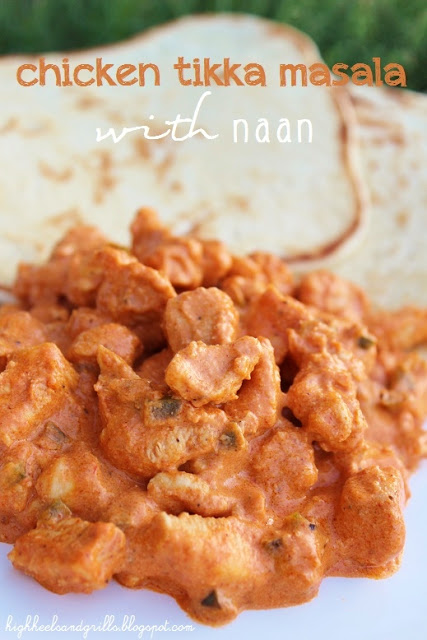 Please, don't knock this until you've tried it. I had never eaten Indian food before, but I am a through and through fan now! I really wish I could just give you a bite of this through your screen because it is really that good. Every time we have it (which is probably way too often), I find myself stuffing my face to the max, not just because I'm hungry, but because I can't get enough of the taste! I
will
warn you that this recipe is not for the faint in heart. It takes a little bit of time, but it is well worth the reward. This might make you tempted to cut corners and not make the naan (a garlic flatbread) that goes with this meal, but don't do it! The naan is a vital part of the deliciousness that makes all of this up! (The Chicken Tikka Masala recipe was found at
Allrecipes.com
and the Naan recipe was
also
.)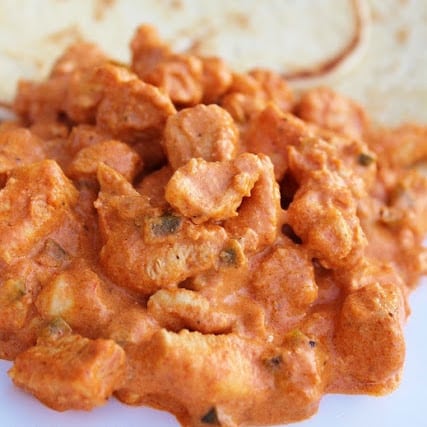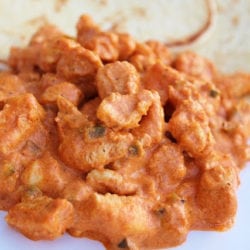 Chicken Tikka Masala with Naan
This Chicken Tikka Masala with Naan Bread is better than any restaurant Tikka Masala out there! It is a little time consuming, but so worth it. If you are new to Indian food, this is the one to try!
Ingredients
For the marinade:
1

cup

plain yogurt

1

Tbsp.

lemon juice

2

tsp.

ground cumin

1

tsp.

ground cinnamon

2

tsp.

cayenne pepper

2

tsp.

black pepper

1

Tbsp

minced fresh ginger

2

tsp.

salt

3

boneless

skinless chicken breasts, cut into bite-size pieces
For the sauce:
1

Tbsp.

butter

1

clove

garlic

minced

1

jalapeno pepper

finely chopped

2

tsp.

ground cumin

2

tsp.

paprika

1

& 1/2 tsp salt

or to taste

1

8oz. can tomato sauce

1

cup

heavy cream
For the naan:
1

.25 oz. package active dry yeast

1

cup

warm water

as hot as you can get it out of the tap

1/4

cup

white sugar

3

Tbsp.

milk

1

egg

beaten

2

tsp.

salt

4

cups

bread flour

2

tsp.

minced garlic

1/4

cup

butter
Instructions
MARINADE: In a large bowl, combine yogurt, lemon juice, cumin, cinnamon, cayenne pepper, black pepper, ginger, and salt.
Stir in chicken, cover, and refrigerate for one hour.
NAAN: While chicken is marinating, in a large bowl, dissolve yeast in warm water - let stand about 5 minutes until is starts to bloom.
Stir in sugar, milk, egg, salt, and flour.

Knead for 5-6 minutes on a lightly floured surface, or until smooth.

Place dough in a greased bowl and cover - let rise 1 hour, until the dough has doubled in volume.

After an hour, punch down dough and knead in garlic.

Pinch off small handfuls of dough about the size of a golf ball. (I usually get about 12 balls out of it.)

Place dough balls on a cookie sheet.

Cover and let rise again, until doubled in size. (About 30 minutes.)
SAUCE: In a large frying pan, pour in the marinated chicken (marinade and all) and cook until no longer pink inside - transfer to strainer, but do not rinse.
While chicken is cooking, melt butter in another large frying pan. (Sometimes, we just use a big pot.)

Saute garlic and jalapeno for 1 minute.

Add cumin, paprika, and salt - combine well.

Stir in tomato sauce and cream - simmer on low heat until sauce thickens.

Add chicken and continue to simmer until desired thickness.
NAAN: After the second rising, preheat griddle to medium-high heat.
Roll one ball of dough out into a thin circle.

Grease griddle with butter and place dough on it - cook for 2-3 minutes or until puffy and golden brown.

Flip naan and cook another 2-3 minutes until golden brown.

Remove from griddle and repeat process until all the naan has been prepared.

Dish up some Chicken Tikka Masala, grab a piece of two of naan and eat up!
It is best served by using the naan to scoop up the Chicken Tikka Masala. The cool thing about this naan is that you can also use it for flatbread sandwiches or…whatever else you use flatbread for. This recipe may sound a bit confusing, but give it a try and it will all come together. If you have any questions, feel free to ask!