Welcome to Man Monday.
I like leftovers. I LIVE off of leftovers. The job I have demands it. I can either bring food from home to work, or I can order a grilled cheese sandwich that literally drips with grease. In fact, in an attempt to eat a little healthier on a day I didn't bring my breakfast, I ordered turkey bacon. It was deep-fried. So much for that.
The point? This recipe is one of the best leftover recipes I've had in a long time, thanks to Pearls, Handcuffs, and Happy Hour. Cook up some pasta, add a little bit of the sauce, put it in a food container and you are set for lunch.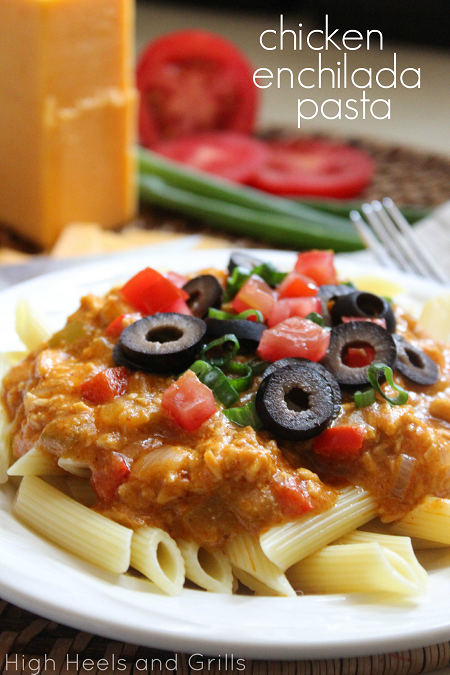 Chicken Enchilada Pasta

Recipe from Pearls, Handcuffs, and Happy Hour
Serves 6-8
Ingredients:

2-3 chicken breasts, cooked & shredded (don't forget to season your chicken when cooking!!)
2 tbsp. olive oil
2 cloves garlic, minced
1 medium onion, diced
1 red pepper, diced
1 (4 oz.) can diced green chiles
1/2 tsp. salt
2 tsp. chili powder
1 tsp. cumin
2 (10 oz.) cans green chili enchilada sauce
2/3 cups red enchilada sauce
2 cups shredded cheese (we used cheddar)
1 cup sour cream
penne pasta

Before beginning the actual sauce, make sure to have your cooked chicken as well as the pasta ready to go.
Heat up your olive oil in a large skillet. Add your onion and red pepper. Cook on medium heat for about 5 minutes. Add the garlic and cook for another 2 minutes or so.
When the onions and peppers look/taste cooked through, add the green chiles, salt, chili powder, cumin, and enchilada sauces. Stir well and bring to a simmer, stirring frequently, for about 10 minutes.
Reduce heat to low and immediately add the cheese. Stir until the cheese is mixed into the sauce. Add the sour cream and mix again. Make sure the sauce isn't too hot at this point (the reason for taking the heat to low); otherwise, your sour cream will curdle.
Serve your chicken enchilada sauce on a bed of pasta. Add any random delicious ingredients you like. We used green onions, tomato, and black olives. It was fantastic!
I hope you enjoy this leftover friendly recipe. Next time, I'll probably double the recipe because this stuff didn't last 2 days in my fridge.