MAN MONDAY! Yep, just screamed that as I wrote it.
So remember when our computer died? Yeah, I was making this post when that happened. So, as I was doing the little update-a-roo on this post, I got to thinking… Maybe this post is cursed! If I try posting it again, will my computer break!? So, I've resorted to using someone else's, just in-case. 😉
Anywho, here is the-post-that-was-going-to-be-the-first-man-monday-post-of-2013 post. Enjoy!
For you noobs who haven't read our "about the blog" page, let me give you a quick recap (or you can just stop being lazy and go read it for yourself). Three days into our marriage, Sarah and I made our first meal as domesticated folk: Chicken a la King. For this reason, Chicken a la King will always be special to us, and we've made it a tradition to make it every New Years Eve.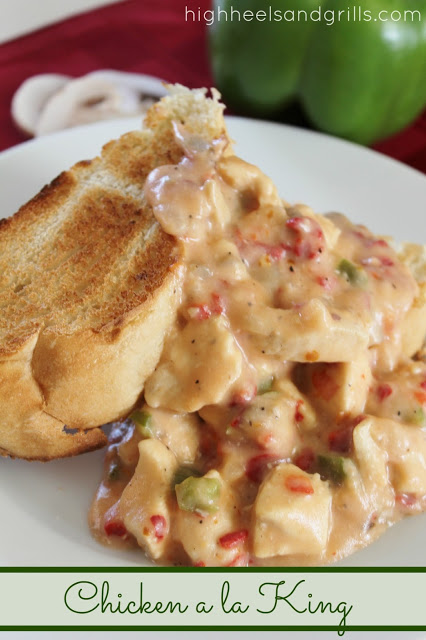 Need any more introduction than that? Here are the deets (hipster for "details").
Makes approximately 4 servings.
Ingredients:
1/2 cup green bell pepper, chopped
1/3 cup onion, chopped
1/2 cup mushrooms, chopped
1/4 cup butter
1 1/2 cup milk
1/2 cup chicken stock/broth
1/4 cup flour
2 large chicken breasts, cubed and cooked
2-3 pickled cherry peppers, chopped (should make about 1/4 cup)
1/4 teaspoon garlic powder
1/2 teaspoon red pepper flakes
1/2 teaspoon of salt (or to taste)
black pepper to taste
Directions:
If you haven't bought pre-cooked chicken, cook the chicken first, chop it into cubes and set aside. If you are a geniune noob to cooking and need to be told how to cook chicken (no judgements here) try soaking the thawed chicken in very salty water for about an hour before you grill/saute it. This will help keep it moist and tender.
Melt your butter in a large skillet, add the bell pepper and onion and saute for about 4 minutes. Add the mushrooms and continue "the sizzle" for an additional 2-3 minutes (the mushroom might soak up the butter a little, no worries).
Add the flour and mix well. While the pan is still hot, add the milk and chicken broth. Bring the mixture to a boil while stirring frequently, then reduce the heat to medium-low. Add the cooked chicken, cherry peppers, garlic powder, red pepper flakes, salt, and pepper and mix well. When the Chicken a la King has reduced to a good consistency, you're DONE!
Sarah and I like to serve this stuff right over the top of some toast (French bread is best!). If you want to take a less easy route, you can serve it over rice, or pasta, or… bacon? I don't know, do whatever you like. However, one thing you MUST do: enjoy.
-Zach