Welcome to Man Monday… Now, don't mind me as I wave this wand in front of your face…
*Transported back 20 years, to Zach's elementary school cafeteria*
Zach: nomnomnom
Annoying kid: What are you eating?
Zach: Breffkist corn dogs.
Annoying kid: Sick! Did you just dip that in syrup? You're gross!
Zach: Shut-up, it's good. Go bug someone else, butt-face.
Annoying kid: ♪♫♪ Zach eats poo-ooo, Zach ea-eats poo-oo! ♫♪

Whatever. That kid was a weirdo anyway.
I was a weird kid too, but in a good way of course. I was one of those kids perfectly content with being a loner, eating not-every-kid's-food, and hanging out with family more than friends. I like to call it, being well-rounded. Somehow, that version of weird made me cool I guess. I never had any enemies…ever. I never got in a fight. I never had to run away from bullies. In fact, I was one of those kids that just made friends with everyone. I remember one time getting sort-of picked on at recess and the designated bully started to pick a fight with the kid picking on me, telling him to leave me alone.
What does this have to do with sausages dipped in cornmeal pancake batter and fried? Um, nothing really, other than this weird kid *points thumbs at himself* ate them all the time growing up and LOVED them, and that, of course, made me popular. I still love them today, and so will you. Unless you don't like having friends.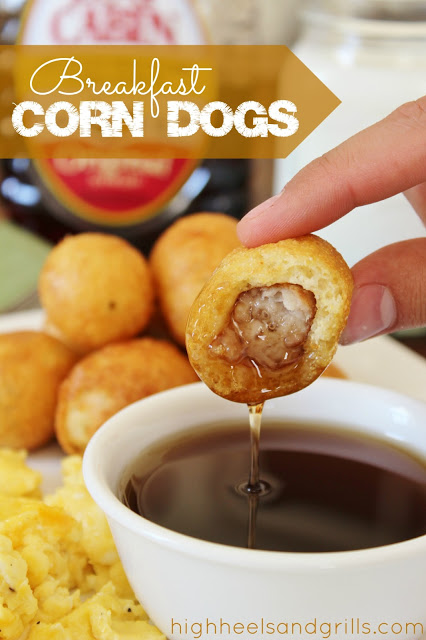 Makes 16 mini-sausage-corn-dogs (enough for 2-4 peeps, depending on hunger levels)
Ingredients
1/2 cup corn meal
1 1/2 cups flour
1 teaspoon sugar
1/2 teaspoon baking powder
1/4 teaspoon baking soda
1 cup buttermilk
1/4 cup corn starch
8 cooked sausage links, cut in half (makes 16 pieces)
1 container cooking oil (I used 1.5 qts of vegetable oil)
Syrup
2-3 shish kabob skewers

Directions
Combine dry ingredients (minus corn starch), and whisk in your buttermilk. Mix well.
Heat up your oil in a deep pan (you want a good 3-4 inches of oil, so I used a deeper, smaller-diameter pot)
If your sausage links are dry, wet them a little with water. Dredge them in the corn starch and remove excess.
Stab 2-3 sausageletts with your skewers (as many as you can hold in the hot oil at one time – I did 2). Then, dip them in the batter, fully coating each one.
Quickly submerge each pancake-battered-dog in the hot oil for about 1-2 minutes or until golden brown. Repeat until each piglet-in-a-blanket is cooked. Eat with syrup (that's NOT optional…). That's it!
I hope serving these to the masses makes you popular. If it doesn't, well, you can still enjoy them in your lonesome.
*Signing off!*
-Zach
Linking up here.