Welcome to another Man Monday!
Most recipes that I do for Man Monday are either original, or I change a few things to my liking. Well, today I've pretty much just used a great idea I came across. Enter: Bisquick.
Did you know that you can make like a bazillion things from Bisquick? Well, one morning, I was making Sarah pancakes (I got a few best-husband-ever points for that, by the way) and I noticed this recipe on the side of the box. A few hours later, I made 'em for lunch. Sarah and I were both completely blown away at how good they were. I mean, come on! Most of the time, stuff that tastes really good sure isn't easy to make, and it sure doesn't come from a box mix. Right? Not this time.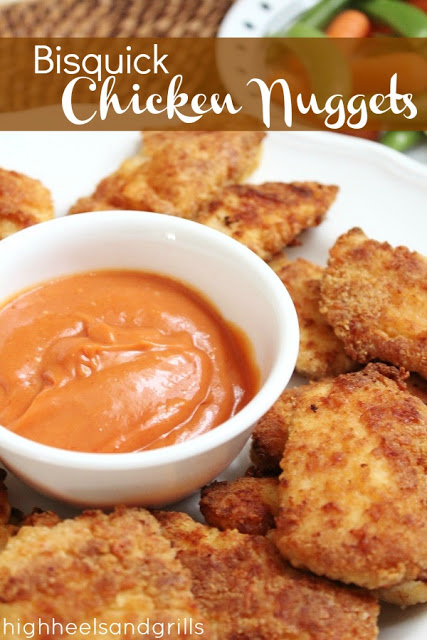 Makes 3-4 servings.
Ingredients:
3 boneless skinless chicken breast halves cut crosswise into 1/2″ strips (I cut them smaller to make nuggets rather than strips… cause I'm still a kid-ish)
2/3 cup Bisquick mix
1/2 cup grated parmesan cheese
1/2 tsp garlic salt
1/2 tsp paprika
1 egg, slightly beaten
3 Tbsp butter or margarine, melted
Directions:
Heat oven to 450°
Line cookie sheet with foil and spray with cooking spray.
In a resealable freezer bag (a big one), mix bisquick, cheese, salt, and paprika.
Dip half the chicken nuggets into the egg and then place in the resealable bag. Seal the bag and shake what yo' mamma gave ya. Place the chicken on the cookie sheet and repeat the process for the remaining chicken.
Drizzle your butter over the chicken, and bake for 12-14 minutes, turning them over halfway through. Make sure to check one before you eat 'em. No salmonella issues peeps!
I hope you enjoy this recipe. I'm pretty sure we'll be making them a lot more in the future. Peace!
*Zach puts a pretend walkie-talky up to his face and says,* "Over and out. Chkkkkrrrr."
Linking up here.