Welcome to Man Monday.
Did you know that Food Network dubbed Stroganoff as the ultimate comfort food? Well, I happen to agree with them. Nothing says "home" quite like a warm plate of this stuff. In fact, this was my most requested mom-created meal growing up.
Usually when I want to create a meal, I'll find a recipe that I like and have at it. I might even change a couple of ingredients just to tweak it to my liking. Not this time. This time I went out on a limb and decided to make the entire thing from scratch, out of my own brain muscles. You know, brain muscles… The muscles in your brain that make creation possible? No? Whatev. They are real.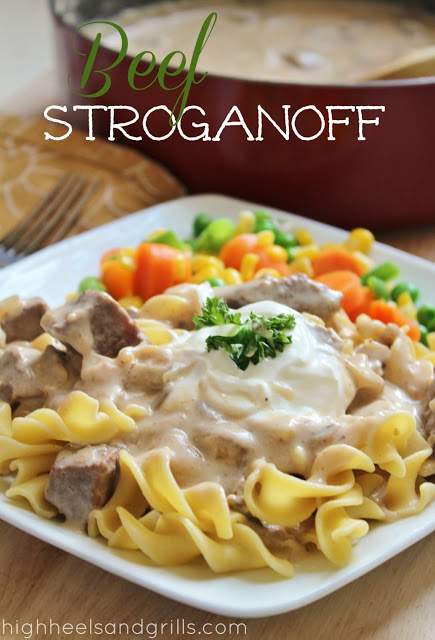 My brain muscles came up with this wonderful recipe, and it's AWESOME. I really am so proud. Not very often have I just thought up a recipe and ended up licking the plate after eating it. No joke.
Ingredients:
1/2 tablespoon olive oil
1/2 cup chopped onions
2 large garlic cloves
1 lb beef (steak) chunks
1 tablespoon onion salt
1/2 tablespoon salt
1/2 tablespoon pepper
1 cup chopped or diced mushrooms
2 tablespoons butter
2 tablespoons flour
2 1/2 cups milk
2/3 cup sour cream
a dash of nutmeg (I say 1/4 teaspoon, but the Mrs. claims that's too much…)
Whatever you want to serve it on – pasta, rice, your palm, whatever.
Heat up your olive oil in a skillet (a big enough skillet to fit all the meat, onion, and mushrooms). Add your onion and garlic. Sauté the onion and garlic for about a minute.
Season your beef chunks with the onion salt, salt, and pepper. It may seem like a lot of seasoning, but believe me, the beef will need it. Add the seasoned beef to the onions and garlic.
When the beef is browned, add the mushrooms and continue to cook on medium for about 2-3 minutes. Set this mixture aside.
In a separate pan, melt the butter. Add your flour and bring to a light bubble (very technical term). Then whisk in your milk. Let this mixture reduce/thicken on medium heat just a little. Reduce heat to a simmer and add the sour cream and nutmeg. Add the meat concoction to the sauce and mix well.
Add salt to taste. It will probably need it if you didn't season stuff throughout.
Serve on a starch of your choice. Then lick the plate afterwards. I'm dead serious.