I was talking to Zachary last night and I determined that behind Christmas, the 4th of July is my very favorite holiday. Even more than Halloween. I've always had a sense of pride in my country, as I would hope that every person does, but when I married Zach, that pride definitely grew. He is in the Air Force and I feel like so much of what he does and what we are as a family, revolves around this country. I love it and I am so proud to live here!
With that being said, I couldn't pass up an opportunity to make some cute, festive treats using my all-time favorite method – rice krispy treats. We have a few different versions of these babies, like our
Christmas ones
and our
Valentine's Day ones
, but I think this version is my favorite.
These rice krispy treats are the best recipe that I've found. A lot of recipes end up making them too hard and so to compensate, people add more marshmallows. What they don't know, is it's all about the butter! These have a perfect balance of both.
Candiquik
is my favorite dipping chocolate for things like this as well, because it's smooth after it's melted and it doesn't harden up as quick as regular chocolate chips do. It tastes awesome, too!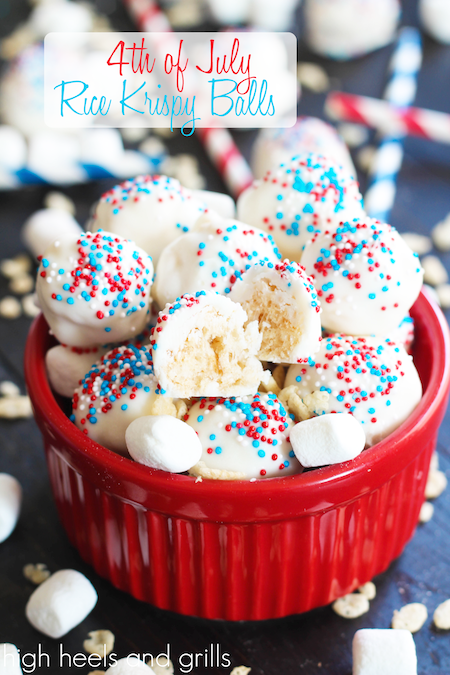 4th of July Rice Krispy Balls

Makes 4-5 dozen
Ingredients:

6 cups rice krispy cereal
3 Tbsp. salted butter
40 regular-sized marshmallows
16 oz. Candiquik white melting chocolate
Red, white, and blue sprinkles

In a medium saucepan, combine butter and marshmallows and heat over medium heat. Stir until there are only a few lumps of marshmallows left and butter is completely melted.
Add the rice krispies and stir until the krispies are completely coated.
Roll rice krispies into 1 inch balls and place on wax paper.
When all the krispies are rolled, melt chocolate according to package directions.
Dip the krispy treats in the chocolate and place back on the wax paper.
Before the chocolate hardens all the way, shake some sprinkles on top and then let sit until chocolate is hard.
Enjoy and have a very happy Independence Day!
-Sarah