We love bananas here at our house, but for some reason, the last bunch I got seems to have sat and sat on our counter without being touched. This means that I have 5 bananas that will probably be thrown away since they are almost completely black. That was until I thought, "Duh, why not make banana bread?"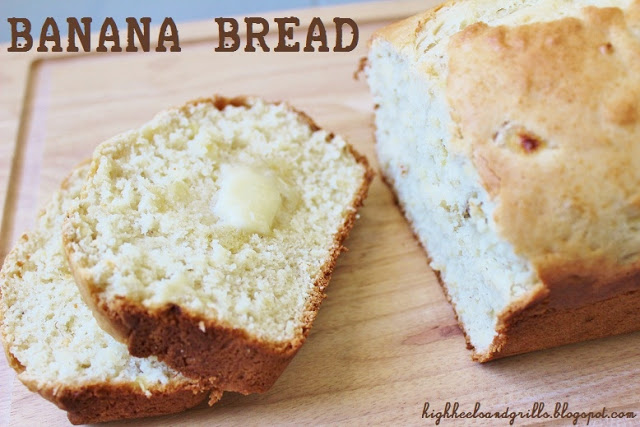 This recipe is from Alyssa at The Recipe Critic and she made it look and sound so delicious that I just had to give it a try. She is a new food blogger like me, so be sure to go and show her some love too!
Banana Bread


Ingredients:

1 cup sugar
2 Tbsp. shortening
1 egg
1 cup milk
3 c flour
3-1/2 tsp. baking powder
1 tsp. salt
1 cup mashed banana (About 3)

Preheat oven to 350ºF and grease a bread pan.
In a medium bowl, mix sugar, shortening, and egg thoroughly. Stir in milk.
In a separate bowl, blend together dry ingredients and add to mixture.
Blend in bananas. (Make sure to do this part by hand.)
Batter will be a little lumpy, which is just how we like it! Pour into pan.
Bake for 50-55 minutes, using a toothpick to check center.
Slather on some butter and enjoy this scrumptious snack!
For some added flavor, you can also add walnuts. Enjoy!
-Sarah