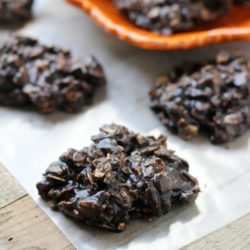 Pumpkin Spice No Bake Cookies
These easy Pumpkin Spice No Bake Cookies will fill your pumpkin AND chocolate cravings, without a lot of work. The pumpkin spice, peanut butter, oats, and butter, are the perfect combination!
In a large saucepan, bring the butter, milk, sugar, and cocoa powder to a boil and let boil for 1 & 1/2 minutes.

Remove from heat and stir in the peanut butter, pumpkin spice, and vanilla, letting the peanut butter melt completely.

Add the oats and mix until fully coated.

Drop by spoonfuls onto wax paper and let cool until hardened.
*I used Special Dark Cocoa Powder in this recipe, hence the darker color. You can use any cocoa powder that you prefer.
*I used old-fashioned oats in this recipe, but quick oats work great too!