Print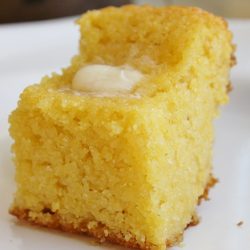 Sweet Corn Bread
This Sweet Corn Bread is the perfect side dish for your favorite meal! It is super moist and has a nice hint of sweetness to it. I haven't met a person that doesn't like it!
Preheat oven to 350ºF.

In a medium-size bowl, combine egg yolks, milk, vanilla, and melted butter and stir.

Add the cornmeal, flour, sugar, baking powder, and salt. Stir until fully combined, but do not over mix.

In a separate bowl, beat the egg whites until stiff peaks form. Carefully fold them into the batter.

Pour batter into a greased 9x13 inch pan and bake for 25-30 minutes or until an inserted toothpick comes out clean.