Welcome to Man Monday.
Me and that panda store have an interesting relationship. See this post for an example.  Really, what it comes down to is this… laziness.  I'm too lazy to run down to that store. That, and I'm too lazy to make the money that it requires to buy stuff from there.  Instead, I make money to feed my baby, pay for the car, buy liquid gold to stick in my dog's ear so that he doesn't get ear infections, and other boring things. At the end of the day, I'm reaching deep into my pockets and pulling out nothing left for Mr. Panda.
So, being the wannabe chef that I am, why not try and make orange chicken for myself? Sarah and I have been trying for 6 months to master this recipe. We tried probably half a dozen different "best orange-chicken" and "just like panda's" chicken recipes out there. NONE of them hold a candle to this recipe that I adapted from the book Top Secret Recipes, by Todd Wilbur.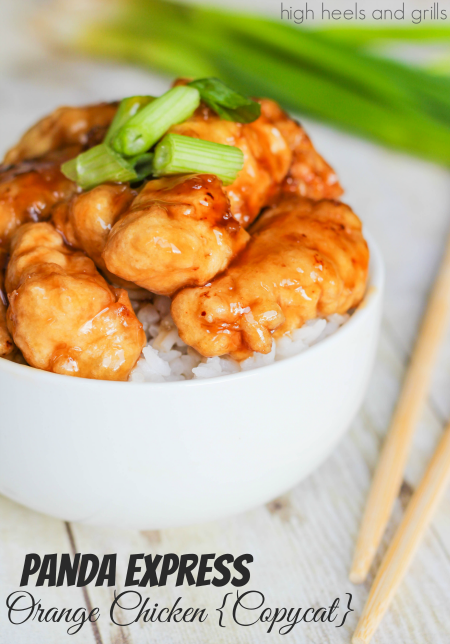 Panda Express Orange Chicken Copycat

Makes about 6 servings
Ingredients:

Sauce:

1 1/2 cups water
2 tablespoons orange juice
1 cup packed dark brown sugar
1/2 cup rice vinegar
2 1/2 tablespoons soy sauce
1/4 cup lemon juice
1/2 teaspoon fresh ginger, minced
1 large clove garlic, minced
1 teaspoon chopped green onion
1/2 teaspoon crushed red pepper flakes
2 tablespoons cornstarch
3 tablespoons water

Chicken

4 boneless/skinless chicken breasts, thawed and cut into bite size chunks
1 cup ice water
1 egg
1/4 teaspoon baking soda
1/4 teaspoon salt
1 1/2 cups unsifted flour
2-4 cups vegetable oil

Combine all the sauce ingredients except the cornstarch and the 3 tablespoons water in a pot. Bring to a boil, stirring frequently. Remove from heat.
Place the chicken into a large resealable bag. Remove one cup of the sauce from the pan and add it to the bag of chicken. Let it marinade for at least 2 hours.
When the chicken has marinated, preheat the oil in a wok or skillet to 400º.
While the oil is heating, in a small bowl combine the cornstarch and 3 tablespoons water. Add the cornstarch mixture to the remaining sauce. Bring the sauce to a light boil, stirring constantly. When the sauce begins to thicken, remove from heat. Cover and set aside.
Beat together the ice water and egg in a medium bowl. Add the baking soda and salt. Add 1 cup of the flour and mix lightly, the batter may still be chunky, and that's fine.
Coat each piece of chicken in the dry flour first, then dip into the batter. At this point, I placed the chicken chunks on a cookie rack over a plate and allowed some of the batter to drip off. Do whatever method suits you.
Slide the pieces of chicken into the hot oil and allow to cook for 3-4 minutes. Remove from oil and let the chicken drain.
Reheat the sauce. When the chicken is done, drizzle the sauce over the top of the chicken until everything is nicely coated. Stir once or twice – no more, or risk mushy orange chicken.
I'll be honest folks. This recipe tastes JUST LIKE the panda store's. No joke. However, it was one of the more labor intensive recipes I've ever done. If you are a dedicated reader/fan/nerd, you will read this and come to the conclusion (as I did) that it's easier just to go buy some.  BUT, if you want to impress your friends, no matter the investment, this is the way to do it.