Welcome to Man Monday folks!
I LOVE me some mac'n'cheese. Remember our crock pot mac and cheese? I seriously can't get enough of that stuff. I was craving it the other night, but, you know, I just didn't want to spend 3 hours making it.
So, anywho… Food Network Magazine came out with a cheese special in their March (2013) issue. I found this gem of a recipe inside. The awesome part? It tastes A LOT like our crock pot mac and cheese, but it takes about a quarter of the time! So, back to my craving… I found this recipe, saw that I had all of the ingredients (very simple) and SHABLAM! Successful dinner. I only changed a couple things.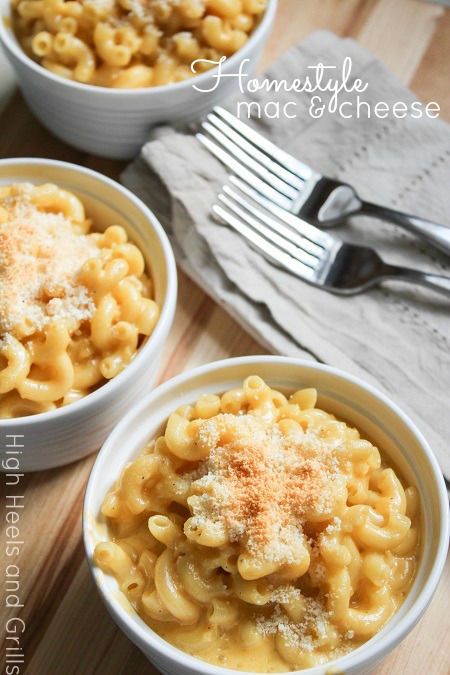 Homestyle Mac and Cheese
Serves 4-5

Ingredients:

8 ounces small pasta shells (hey, I have an idea, how 'bout MACARONI shells… *facepalm*)
3 tablespoons butter
3 large eggs
1 cup evaporated milk
3 cups (yes, you hear right) grated cheddar cheese. You can use 2 – 2 1/2 cups if you don't mind being called a sissy.
1/8 teaspoon cayenne pepper

Bring a pot of salted water to a boil; add the pasta and cook until al dente. Reserve a little bit of the water, drain the pasta, add the butter and mix until the macs are all buttery.
Whisk the eggs, evaporated milk, cheese, cayenne, and 1/2 teaspoon salt in a large saucepan over medium heat. Whisk until the cheese melts and the sauce thickens. Add the pasta and cook for about 2 minutes, stirring frequently. If the sauce gets a little too thick, add some of your reserved pasta water and mix.
That's it! It may not be as awesome as our crock pot version, but it sure as heck takes a LOT less time and effort. I hope you enjoy.
-Zach