Hey all, it's Zach speakin' again.
I'll be honest, I have a love-hate relationship with this soup. Let me explain by talking about something completely different. Just bear with me on this one…
I'm gonna tell you about our dog Copper. Copper LOVES people. To a fault. He loves people so much that they tend to hate him in return for all the attention he gives them. Whenever we are around other people, suddenly Sarah and I are the bad guys as we attempt to contain the copious amounts of energy emanating from our loving canine. He runs from us, he whines when we put him in time-out, and he even throws tantrums if we insist he listens to us. In fact, just today I got so frustrated with him that I fantasized about him running away and never returning. Yet, in the end, my love always returns for this ever needy pet.
Now, I'm sure most of you are asking one of two questions right now… "Why do you still love Copper?" Or it's more likely you're asking, "what in the world does this have to do with french onion soup?" I'll answer both questions whether you care or not. I think the reason I still love my dog is the tremendous amounts of sacrifice and energy I put in to taking care of him. You can't sacrifice SO much and NOT get something rewarding in return.
The same applies to this dang soup! It's gonna take some effort, but in the end you'll love it.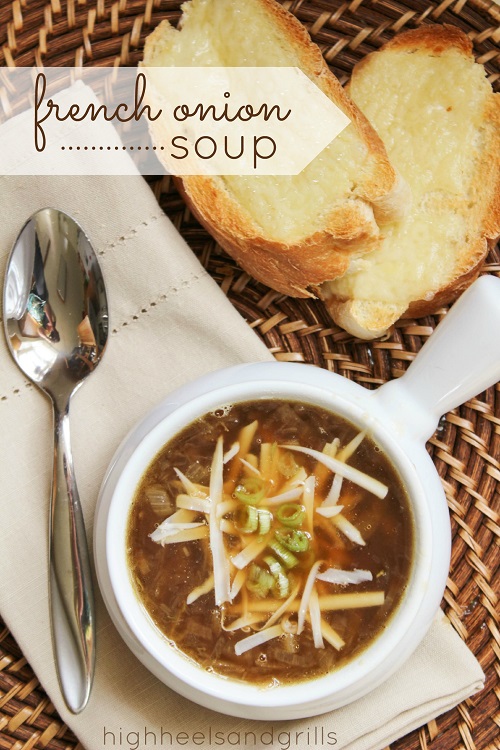 The inspiration from this recipe comes from myrecipes.com. It even tells you the nutrition facts!
Serves 6-10.
Ingredients
2 tablespoons olive oil
2 white onions, thinly sliced
2 red onions, thinly sliced (I know, that's A LOT of onion)
1/2 teaspoon sugar
1/2 teaspoon black pepper
1/4 teaspoon salt
1/4 cup of cooking wine (we don't own any other kinds of wine…)
8 cups sodium free beef broth
1/4 teaspoon FRESH thyme, chopped (please, please don't use the dried up crap…. I did, and my first try was a disaster)
1 bay leaf
8 slices of french bread
8 slices of swiss cheese
Warm up your olive oil in a very large skillet/pot. Add your onions and saute on medium-high heat for 5 minutes. Reduce heat to medium-low and add your sugar, pepper, and salt. Continue to cook for 20 minutes, stirring frequently (maybe constantly… sacrifice).
At this point the onion should be all brown and caramelized and such. Turn the heat back up, add your wine, and cook for 5 minutes to allow the alcohol to cook out.
Add your broth, thyme, and bay leaf, stir. Let simmer on low heat for 1 hour.
Toast your french bread with the swiss cheese. Serve with your soup and enjoy!
hope you like this labor of love. If you don't, well, you did it wrong (like I did the first time).
-Zach