These Chocolate Caramel Pretzels make for great neighbor gifts or after school snacks. You can change up the color to fit the season and they taste so good!

There's a little candy shop near my hometown that is one of the best places in the world to console your sweet tooth. Every time my mom goes there, she makes sure to bring me back one of my favorite treats – chocolate caramel pretzels.
These are like a little slice of heaven, nestled in your mouth. I'm not sure what it is about chocolate, caramel, and salt, but they marry together perfectly! This recipe is very simple and is easy to whip up in no time. We are going to make the caramel using the recipe we had for caramel popcorn, except with not as much butter. I'll just let you read for yourself below.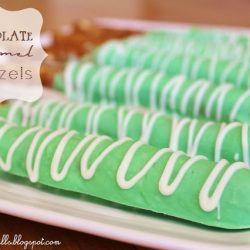 Chocolate Caramel Pretzels
Ingredients
1

cups

brown sugar

1/2

cup

karo syrup

1/8

cup

butter

1/2

can sweetened condensed milk

1

bag of pretzel sticks

2

bags chocolate chips

I used white chocolate and dyed it

Shortening

Wax paper
Instructions
In a medium saucepan, combine brown sugar and karo syrup. Stir until sugar dissolves and let boil one minute.

Add butter and let it melt completely. Let boil for one minute again.

Add sweetened condensed milk and stir well to combine. Bring to boil and let boil for one minute again.

Dip pretzel sticks in resulting caramel (careful not to burn yourself!). Set pretzels on wax paper to let cool. (If you need to, feel free to put them in the refrigerator/freezer.)

In the meantime, melt 1-1/2 bags of chocolate chips with a tablespoon of shortening in the microwave in 10 second increments - stirring each time it stops. (If your chocolate isn't runny enough or it has seized up, add more shortening.)

Once melted (if you're going to dye the chocolate, then do it now by adding a few drops of food coloring until desired color), dip the cooled caramel pretzels in the chocolate and place on a new sheet of wax paper.

After they're cooled, melt the remaining 1/2 bag of chocolate chips and use to drizzle over the chocolate caramel pretzels. (I like to just put it in a Ziploc bag and cut a small hole in the corner to make my own homemade pastry bag. Awesome, I know.)
These are not only delicious, but they make the greatest gifts – which is what we are going to use them for to give to a boy in our Sunday School class whose birthday is today. Hooray!