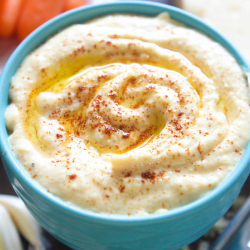 Roasted Garlic and Parmesan Hummus
This Roasted Garlic and Parmesan Hummus has a strong garlic taste, with just a hint of parmesan. It is great for dipping veggies, tortilla chips, pita chips, and pretzels. Makes for a great appetizer at parties or just a side dish for dinner.
Squeeze the garlic cloves out of its shell into a food processor.

Add the rest of the ingredients to the food processor and blend until completely smooth.

Scrape down sides, as needed, and then continue blending to make sure all of the ingredients are blended evenly. If hummus is too thick, add extra olive oil, 1 tsp. at a time, and blend in between additions.

Sprinkle paprika over hummus and serve with vegetables, crackers, or pretzels.