Print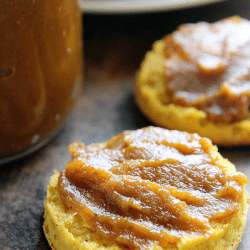 Pumpkin Butter
Spreading this delicious Pumpkin Butter on toast, muffins, or biscuits, is a great way to enjoy the smells and flavors of this falltime season. Plus, it's super simple to make!
Place all ingredients in a large saucepan and stir well.

Bring the mixture to a boil and then reduce the heat to medium low. Let simmer for 30 minutes, stirring frequently, until thickened.

Store in an airtight container for up to 4 weeks.