Welcome to another Man Monday!
I had a hard time coming up with what I wanted to do this week. When I have cooker's block (don't question whether or not that is a real phrase – just go with it), I usually end up just looking at a bunch of stuff at foodnetwork.com and hope for inspiration. Behold, the inspiration: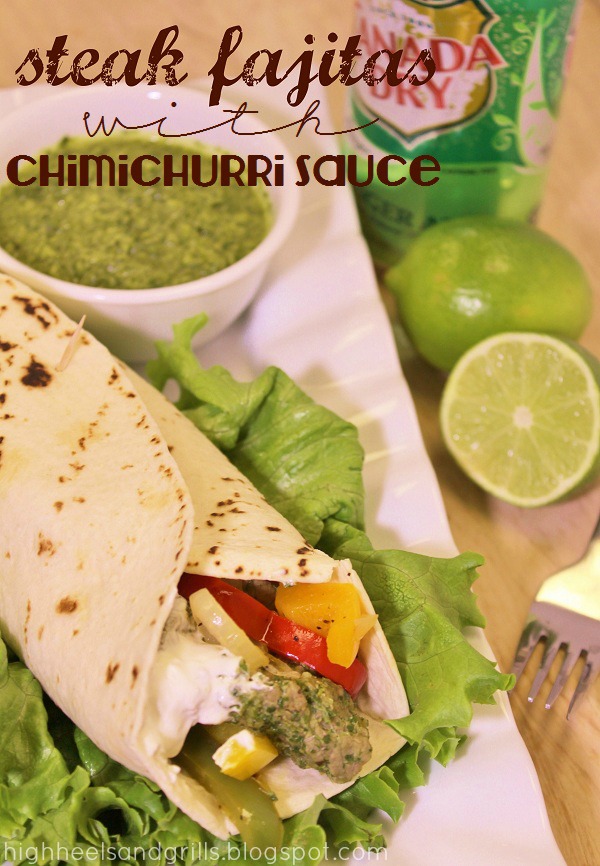 This recipe was adapted from
Sunny Anderson's recipe found here
. However, Sarah and I don't drink and we rarely cook with alcohol. I know, I know, the alcohol cooks out, I'm not an idiot; however, coming from someone who has never had an opportunity to "acquire" the taste, alcoholic beverages are not pleasant – in any form. Try getting someone from pretty much anywhere else in the world to drink American root beer… the resulting look on their face is classic. Same deal with me and beer. So, I used a little bit of ginger ale instead, and it worked out just fine.
In addition to the alcohol adjustment, you will see some other minor tweaks that I feel made the dish even awesomer (just go with that one too).
1/2 bunch of fresh parsley (unless you want the chimichurri sauce to be overwhelmed with parsley and cilantro, don't use the full bunch like Sunny suggests, trust me)
1/2 bunch of fresh cilantro
1-2 cloves garlic
1 large red onion
salt and pepper
2 tablespoons red wine vinegar
3 tablespoons lemon juice
1/2 cup olive oil
1 tablespoon butter

1 lb chuck or top round steak

3 poblano peppers (or any of your favorite pepper combinations)

1/4 cup beer (or ginger ale 🙂
8, 8 inch tortillas
lime wedges (optional)
Combine the parsley, cilantro (stems and all for both these ingredients), garlic, 1/2 of your onion, salt and pepper, vinegar, lemon juice, and olive oil in a food processor and blend thoroughly. Taste it, if you think it needs more parsley and cilantro, have at it. However, Sarah and I both felt that the full bunches were way too much. Also, add as much salt and pepper as you feel it needs.
Poke a bunch of holes into both sides of your steak with a fork. Place your steak into a resealable bag and add half of your chimichurri sauce. Marinate in the fridge for 1 hour. You can add lime juice or lemon juice to the remaining chimichurri sauce to create a dipping concoction for later.
After your hour of marinating time, salt and pepper your meat and grill it to your liking. As a general rule, for thin strips of beef, cook for about 1 minute on each side. For thicker steaks, cook for around 6 minutes on each side.
Now for the veggies. Slice your peppers and the other half of your onion. Heat your butter on the sauté pan until it just starts to bubble. Add your veggies. Cook for about 8 minutes on medium-high heat, stirring often. Add your beer/ale/beverage-concoction-I-really-don't-care-what-you-use and cover. Cook until the veggies are soft and delicious.
Now, simply combine your sliced beef and the remaining ingredients as you desire. Serve with lime and sour cream.
I'll be honest, I don't know who or what a chimichurri is, but this stuff is pretty good! Let's pretend it's a guy, we'll say his name is Javier Chimichurri, who liberated his little Mexican town from the oppressive aliens of Saturn with only a sack of parsley and cilantro, back in 1943. Thanks Mr. Chimichurri, we all owe you a debt of gratitude. I hope this recipe does you proud.
-Zach