Welcome to another Man Monday!
It's getting colder. In fact, it was 28 degrees over the weekend. Our dog saw snow for the first time and he had a similar reaction to snow as I usually do – he put one paw in, wondered whether or not it was worth the trouble, and stepped back inside. Why am I ranting about this? Well, smarty-pants, for one: it's my blog. Two, cold weather means less grill.
With that in mind, today I present to you a roast. Unfortunately, I don't know how to grill a roast… so I've resorted to more indoor manly recipes. Besides, what speaks "man" more than a 4 lb chunk of beef being shoved in a crock-pot with potatoes and carrots, then served with hearty-gravy?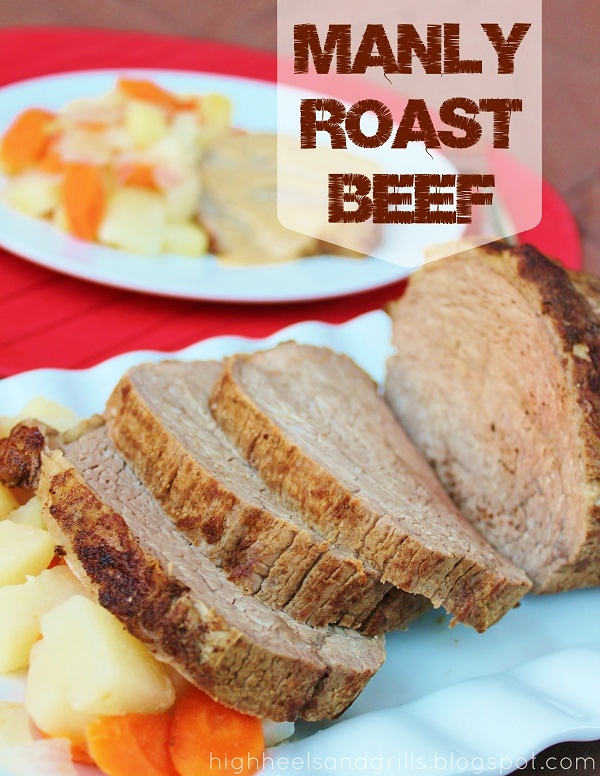 Ingredients:
3-4 lb Rump Roast (or something similar)
your favorite dry rub (here is an easy one…)

1 1/2 tablespoon paprika
1/2 tablespoon onion powder
1 teaspoon cumin
1 teaspoon pepper

6 cups water
3/4 cup of salt
2 clove garlic
2 potatoes, peeled and chopped
2 cups carrots, peeled and chopped
1/2 cup onion, chopped
Directions:
Put your water in your crock-pot and dissolve the salt (yes, all of it, trust me) in the water. Turn heat to high.
Dry rub your roast all over. Get a skillet nice and hot and sear all sides of the roast. You're just going to dump it in some water anyway, so I don't know if this is really necessary. I'm no scientist, but I swear it tastes better in the end… *ahem* moving on!
Add your roast to the salty water mixture and drop in your two garlic cloves whole. Cook on high for approximately 2 -2 1/2 hours. If you want a medium roast, the center temperature of the meat should be around 145 degrees. I screwed up and waited till it was 145° before turning the crock-pot off…by the time we served the meat, the center temperature was closer to 160 (a little over-done for my taste). So, word to the wise, take it out of the crock-pot a good 10° prior to your desired temperature! If you don't have a meat thermometer, uh, just cook it till it's done! 🙂
Unless you want your carrots and potatoes SUPER salty, do not add it to the crock-pot! Not that I know this by experience or anything *shudders*. You'll have to boil those separate.
Let your roast rest a good 10 minutes or so before hacking away. Just when your impatient self is about to explode with hunger, go ahead and cut it up and enjoy.
I hope you like the roast. If you don't, well, have fun grilling in the snow… let me know how that goes.
-Zach
Linking up here.