So, us humans do funny things. Occasionally, when humans have to work on weekends – and holidays, and birthdays, and National Waffle Day (life sucks, I know) – said human might let Monday sneak up on them without realizing it. Oops. I guess this will be the first (and hopefully last) Man Tuesday. Doesn't quite have the same ring to it…
Wassail. Wikipedia says it's a verb and involves singing, drinking, and talking to trees, or something… When I hear the word "wassail," this is what I think of:
Pajamas. Christmas tree all lit up. The sweet, warm smell of apple cider, brewing with other spices and citri (plural for citrus… I'm surprised you didn't know that) wafting from the steaming cup in my hands. Christmas music playing in the background. Not a care in the worl — "COPPER, GET YOUR MANGY PAWS OFF THE COFFEE TABLE YOU DIRTY-ROTTEN CANINE FROM –" *ahem* Well anyway, you get the idea…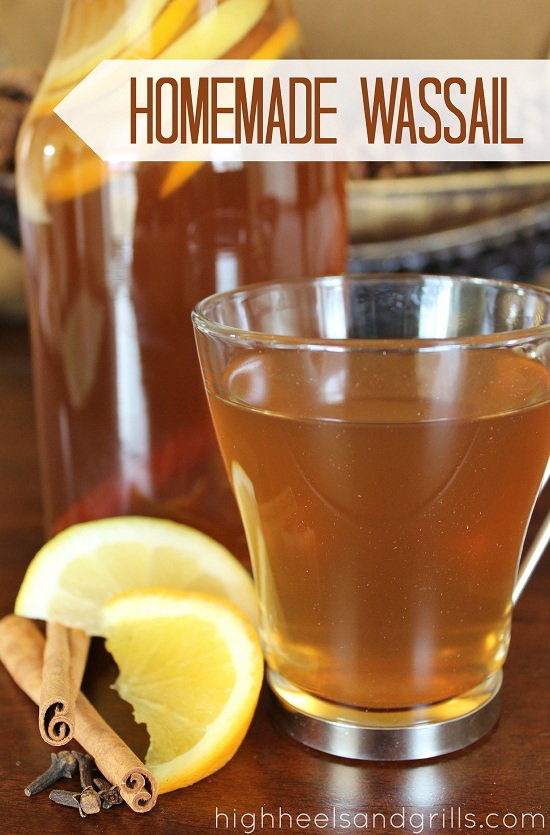 Bottom line, wassail is delicious, comforting, and it smells freakin' awesome! This recipe happens to be pretty easy, which is my favorite kind of recipe. Go ahead, call me lazy. I just say I'm practical (and handsome, but I guess that's not related).
Ingredients: (makes about 4 servings)
5 cups of apple cider (liquid form or mixed from packets)
1 cinnamon stick
1/4 teaspoon whole allspice
1/2 teaspoon whole cloves
1 lemon
1 orange
1 tea-bag, opened and emptied out
1 tablespoon of sugar (optional)
We couldn't find any whole allspice I don't know about you, but I don't like the idea of allspice swimming in my drink. I thought it would be clever to open up a tea bag, empty it out, refill it with the allspice and cloves and re-staple it closed. If you do find whole allspice, just wrap the spices up in some cheesecloth and stick it right in. Add the cinnamon stick and the tea bag to the cider. Boil for 10 minutes.
Cut 1/2 of your lemon and 1/2 of your orange into thin slices (rind and all). Add them to the wassail.
If you want even more of a citrus flavor, you can add some of the juice from the other half of the lemon and orange to the mix.
Turn down the heat after you have added the lemon and orange and taste your concoction and let it .simmer for about 20 minutes. You may need to add a tablespoon of sugar or so to balance out the citrus.
The longer this stuff sits the better it gets… well, to an extent. If you let it sit for TOO long, it starts to get a little bitter from the citrus rind. If you are making a really big batch, I'd recommend removing the citrus after it has had the chance to sit for a few hours . Now, break out the PJs, a blanket, a Christmas movie, and enjoy wassailing!