Welcome to another Man Monday!
Some things just make you feel like a man. You know how we all have this "biological clock" thing? Well, I think guys have a 'man'ograph that measures manly events, kinda how a seismograph measures earthquakes. The day I discovered my first chest hair (like a year ago at the ripe age of 27… don't make fun… when I'm 65 y'all will be jealous that I still look 40) my manograph hit a record 8.0 peak. The first time I shaved? A 7.5. When I was teaching Sarah how to drive a manual car, my manograph measured 5.0. I also think we force our own manographs to go off occasionally… we need it to survive. That's probably why we burp, spit, and do *ahem* other things more often – it's to reassure ourselves we are men and to ensure our manographs are working.
Well men (or women who want to please your man…), if you need a little reassurance of your manliness, make this chili – and eat it. It's a far more pleasant way to find that reassurance than the other smelly and gross methods. Also, I'll be honest, it was pretty easy and of course it tastes great too. You'll get a recorded manograph activity of at least 4.0 by just making it and at least an additional 5.0 by eating it. See? It's totally worth it.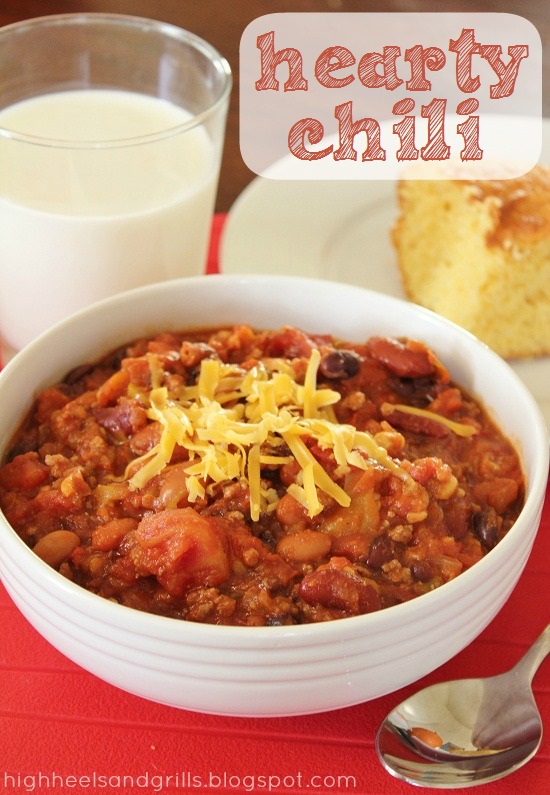 Oh, and I'll warn you, this makes a lot of chili. It will feed Sarah and I all week at least. Furthermore, if you would like the recipe for the best cornbread ever to go with it, pay a visit here. You won't regret it.
Ingredients:
1 tablespoon olive oil
1 large clove garlic, minced
1 1/2 lbs ground beef
Salt and pepper, to taste
Chili seasoning

1 tablespoon salt
1 teaspoon cumin
1 teaspoon chili powder
1/2 teaspoon chipotle pepper powder
1/2 teaspoon onion salt
1/2 teaspoon red pepper flakes
1/4 teaspoon garlic powder
1/4 teaspoon cayenne pepper

1 whole onion, chopped
2 bell peppers, chopped (I recommend at least one of them being red – it's sweeter and adds a nice touch)
2 jalepeños, chopped (and seeded of course)
1 (28 oz) can chopped tomatoes
2 medium sized fresh tomatoes, chopped
1 (15 oz) can of black beans, drained
1 (15 oz) can of pinto beans, drained
1 (15 oz) can of kidney beans, drained
1 (15 oz) can of creamed corn (or 2, 8 oz cans)
1 (6 oz) can tomato paste (if you like thicker chili like me)
Heat up your olive oil in a large pot on medium heat. Sauté your garlic for 1-2 minutes. Don't burn it!
Salt and pepper your ground beef and add it to the pot. Break it apart as you stir. As it's browning, add your chili seasoning mix and stir.
The next part is super easy. Add the rest of the ingredients, and stir. That's it. See, told you so. (Sarah hates it when I say that) Cook on medium-low heat for at least one hour, stirring occasionally.
This chili might actually save the world. Men will feel manlier, while women will feel less side-effects from men's manographs activating. I should get a Nobel Awesome prize or something…
-Zach