It's a good thing this isn't a Man Monday post because there really isn't anything manly about coconut blondies. However, that didn't stop one of my dude coworkers from eating seven (yes, no joke) of these.
Sarah, feeling extra pregnant one day, decided she needed a dessert, stat. Well, I'm tired of making desserts that put more chunk on me so I took another recipe from the book 400 Calorie Fix Cookbook. These puppies are only 250 calories each for a good 3″ square. A normal brownie? 360+ calories.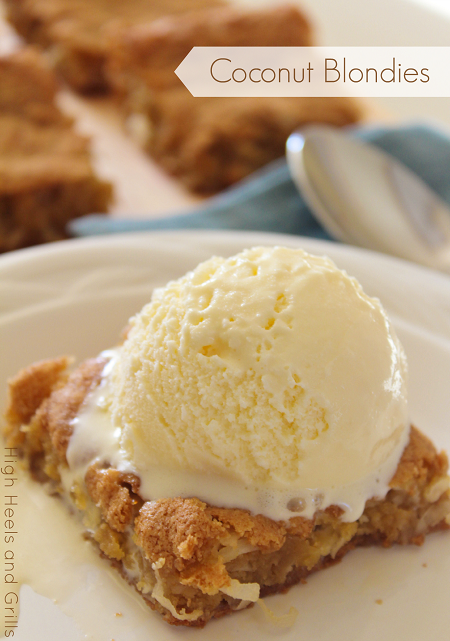 Coconut Blondies

Makes about 8 bars
Ingredients:

1 cup all-purpose flour
1 1/4 teaspoon baking powder
1/8 teaspoon salt
4 tablespoons trans-free margarine, melted
2 large egg-whites
1 large egg
1 cup light brown sugar, packed
1 teaspoon coconut extract
1/2 teaspoon vanilla extract
2/3 cup sweetened flaked coconut

Preheat oven to 350°. Coat an 8″ x 8″ baking pan with cooking spray and dust lightly with flour.
Combine the flour, baking powder, and salt in a bowl. In a separate bowl mix the margarine, egg whites, whole egg, brown sugar, coconut extract, and vanilla. Slowly stir the flour mixture into the wet mixture until well combined. Stir in the flaked coconut, and pour mixture into the baking pan.
Bake for 25 to 30 minutes. Cut into eight bars.
Now, if you are like me, you will serve this less-bad-for-you-but-delicious dessert hot with a scoop of ice cream on top. In doing so, you will definitely make it BAD for you, but at least you can say you are trying. Give yourself 10 seconds to watch the ice cream slowly melt over the sides and cue the salivating. I PROMISE you won't have any trouble enjoying this.